BBQ awards – Dogtown Pizza – Night #8
JANUARY 30, 2011 by Jesse Selengut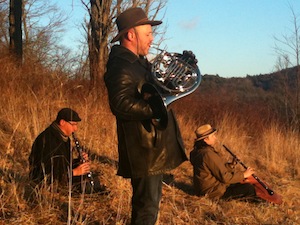 Few things are better than a cabin in the mountains. The drive up there is windy, uphill and thrilling. The views on the way there are breathtaking. You can build a fire in the wood burning stove. The air smells great. There are so many stars in the sky at night. It is very, very quiet in the winter.
We drove up to Baby Hand's mom's cabin up near a town called Meadows of Dan so we could be within striking distance of Floyd, VA. Just before we got there we hit another BBQ joint on the Blue Ridge. "Two by Two BBQ" was the name. It was good. So good that we needed to decide who had the best BBQ that we had on our trip.
---
Here are the contenders in order that we ate there.
The Federal, Durham
The Blue Note Grill, Durham
Hog Heaven, Durham
Cook Out, Greensboro
Stamey's, Greensboro
Two by Two BBQ, Floyd, VA
Yes that's a lot of BBQ. Here are the results in a few categories:
Best Flavor and Textured Meat: Two By Two BBQ! It was fresh, sweet, moist, well spiced and melted in your mouth. That's some fine pig. Well done!
Best Sauce: Stamey's Long time Greensboro stand-by did have some good quality stuff. Their sauce was the best we had on the trip. Vinegar for sure but great spices and not too sweet with a nice pepper thing going on and good. Also there slaw rocked!! Different, delicious.
Best Atmosphere: Blue Note Grill Hard to find location. Nothing but pick-up trucks in the parking lot. Bluegrass Band on stage shredding when we arrived. Packed with folks. Super friendly waiters and waitresses. We met the Mom who runs it. She made sure we ate her bread pudding. It's like the crack of bread puddings! My eyes are rolling back in my head as I even think about it. Post traumatic sugar bliss. It was killing!!
---
Ok, back to the country. Floyd was a fun town from what we could tell. The Floyd Fest is there every year so it has a reputation for being a good music town. Apparently a whole bunch of hippies settled there in the early 60's and now there kids were running things over there. It reminded my of Ithaca in the 90's. Lot's of open deadheads, patchouli smells and pink floyd t-shirts. Screaming John runs this great pizza shop called Dogtown Pizza. The pies are great. Wood burning oven style. He and everyone on his staff was so super cool. You know you are in a good place when after the show, you hang out with your sound guy and meditate playing long tones together. Graham, had a huge didgeridoo that was in the key of D and we did our usual intonational meditational together. Great sound too.
It was a fun couple of sets there at the dogtown. I don't know why I appreciate it so much but I really do like it when the really old folks get up and dance. I'm talking the over 80 crowd. That makes me so happy and feel great. Firstly, because to be 80 and to still want to dance is a beautiful thing in and of itself. Secondly, that we should be providing the soundtrack to that volition makes me proud.
Good people. Great dancers. Good vibes. Fun show. That was basically the tenor of this whole trip. Amen. We had a wonderful time. The hope is that we made a good enough impression that we'll be asked back again for bigger and better. I am sure we are on the right track!
The very last Baby Hands fact of the trip: Baby Hands really kicked some ass getting this tour together. He booked all of the shows. He hooked us up with all kinds of local resources from his friends and families. He did the in person hard-sell for the band in Floyd to get us that gig. He was able to hang in close proximity to three other very large personality people for 10 days straight without cracking! And he played some great Bass along the way! Baby Hands delivers. There's your fact of the day.