Wed 26 Jan 2011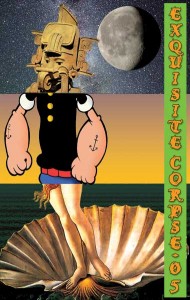 It's been such a pleasure to stay at Baby Hand's mom's house. It's just so lovely and relaxed here. We went grocery shopping and made everyone a sumptuous meal the other night. Feels real good. We've had a bit of down time to just hang out and chill.
Yesterday in the afternoon we finished writing a song together, rehearsed and recorded it. The song is for an Exquisite Corpse festival that we were invited to be a part of. Exquisite corpse is an art form that came mostly out of the Dada school of painters. Three artists would collaborate on a work. One person would do the head, the next the torso and the last would paint the legs. The resulting juxtapositions would create a new work that was bizarre and garish. The festival organizer is attempting to create works of art in a wide variety of media: painting, sculpture, dance, and song. We are contributing the first part of the song. Within that first minute of a song we decided to do our own exquisite corpse project. Stefan did the intro. I wrote the verse and Clifton came up with a chorus. We didn't hear the other's work until we put the thing together yesterday.
It came out pretty good, I think. The intro sounds like a tango of sorts and then it goes into a story called Zombie Casanova. It winds up sounding like a scary music theater number like something from Sweeny Todd. We set up a portable stereo mic and made the recording right away. The whole project was a good way to spend a rainy afternoon at home.
In the evening we had a show at the Green Bean in downtown Greensboro. The gig itself was kind of a flop. Not that many people showed up and we did that thing where we play our normal repertoire with arrangements and tempi that we have never used before. We played "Ida, Sweet Like Apple Cider" at a glacial blues crawl. We played "Summertime" in seven and "Bucket" as a minor waltz. Basically, we were trying to get through the set and not get discouraged by the fact that the majority of the crowd was doing their homework or surfing the internet. The second set was better. Some folks from the private party the other day came out and some other folks too. We actually put on a show and got some dancing happening.
In the crowd that last set were two people that we got to know pretty well before the night was out. Ben came up to us afterwards and proposed that we go play an open mic at fun club nearby. He promised 50 people in the crowd and a PA. Let's do it. The Flatiron was a short drive away. We arrived to find a smoky dive bar that was populated entirely by dudes. Oh no. No way near 50 people. We were initially discouraged but decided to stick around. Glad we did. The place filled up gradually including almost the entire crowd that was actually listening over at the Green Bean. When it was our turn we opted out of using the stage and set up by the pool table right in front of where people were sitting. Within a minute of our first song Stefan had hopped up on the bar and got the whole crowd going. They let us do a five song set and we crushed it. We had everyone dancing and clapping and all excited. It was fun. Mostly because we took an environment that was basically tolerant of the talent on stage in a distracted, when am I on next, kind of way, and turned in to a focused room where everyone was engaged in the music.
For the next few hours we just hung out there, drinking and laughing and meeting all kinds of great people. Including Crystal Bright (her real name as it turns out). She was at the Green Bean too. She plays saw and accordion and performed at the Flatiron that night. Beat boxers, joke tellers, singer song writers and just people out to party. Like J.R. He was a teller of tall tall tales. According to him he parents were the kings of Czechoslovakia. He lived in New York City on Bleeker Street on the Upper West Side! etc…
Finally, at the end of the night, after everyone had had their turn at the mic we decided to do another song. Stefan took out his tenor and started playing an ultra-funky line and walked over to the corner near the couches. I came in a minute later with the trumpet and then Clifton joined in on guitar. Some pulse-y, bluesy jam in G. It was open enough that we were able to get a couple of the performers to join in with us, singing verses of random stuff. An excellent beat boxer named DC helped in and was directing traffic getting people to take choruses. We rounded around by the bar and Stefan and Clifton got up on the bar. Hands had his bass out by then and we moved in to "Lonely Avenue." It was a great moment. All 45 people in the bar were in a tight semi-circle around us. And EVERYONE was singing with us on the chorus. We do this thing at the end of the song where we keep repeating the hook "A lonely avenue" over and over again but it gets slightly slower each time. In a about a minute we had everyone in the place shout singing the phrase – A Lone–ly—Av—E—Nu… Priceless.
And yes, we met some more teacher types and today we are going to play a jazz class and tomorrow we are going to help teach a world music class. Thanks Sara!! Thank Crystal!!
For the Baby Hands fun fact of the day, please see the comments below.